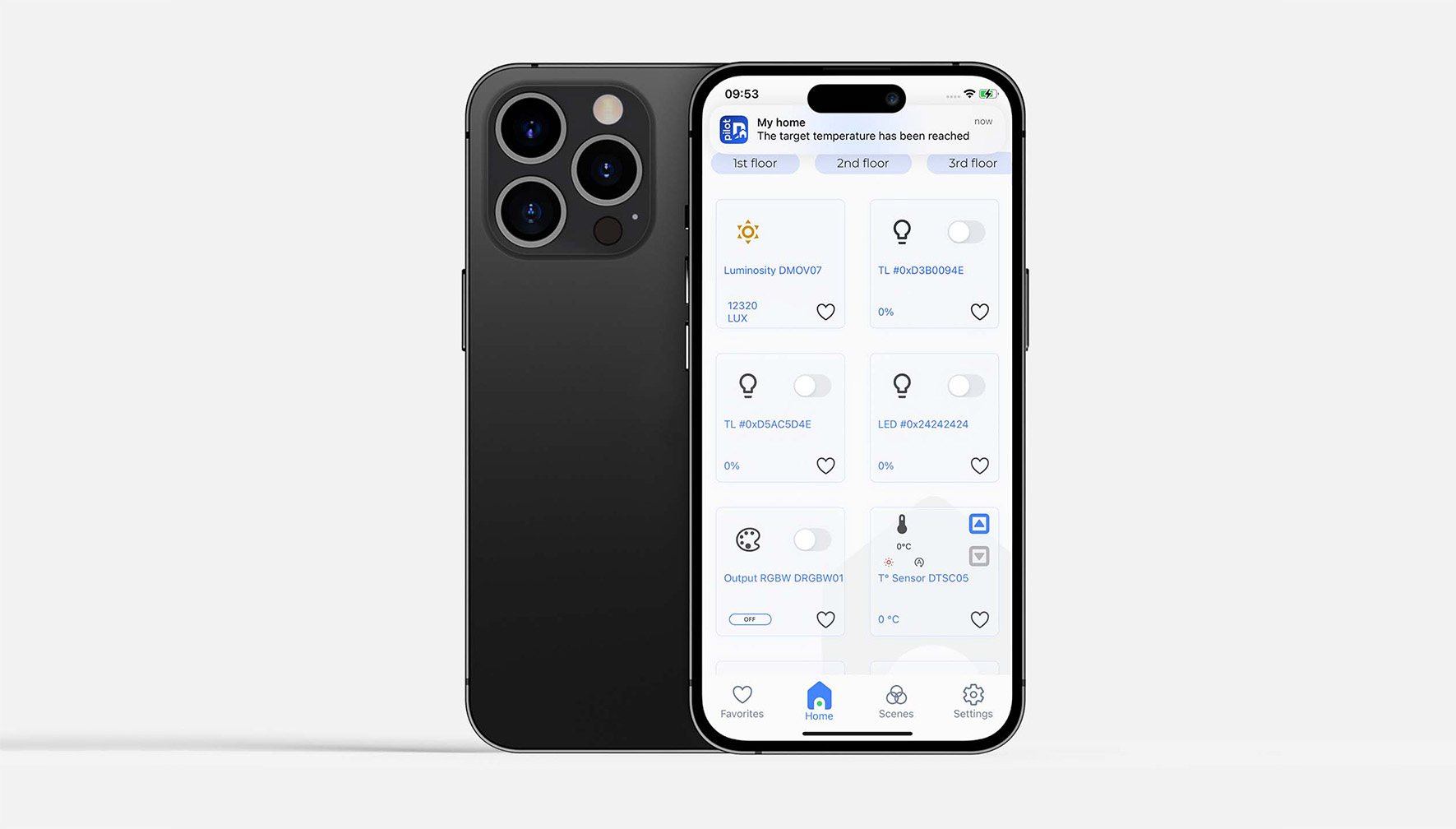 The Domintell team is proud to announce the launch of a new version of our mobile application with Domintell Pilot 2, available on Android and iOS. This new version offers many visual and functional improvements for a more complete, modern and intuitive application.
It is exclusively intended for installations equipped with a latest generation Master*(DGQG02/04 and following) and allows the use of the new Cloud functionalities.
A new design and a fluid organization
The application Domintell Pilot 2 has a brand new design to bring a touch of modernity to its interface, which is also more intuitive and efficient for a more total control on your installation thanks to the historical tile system.

This design is accompanied by a new organization in the application for a more fluid and fast navigation. Find more easily your different devices and modules in an easier navigation between your different rooms and floors. You can also find your modules marked as favorites in a dedicated tab in quick access on your home screen.
Innovative features with the Cloud Domintell
The new cloud infrastructure expands the scope of compatibility with third-party technologies and adds a new layer of connectivity to the Domintell ecosystem and its application.
I. Connection via Internet from outside, without complex configuration
The Cloud Domintell allows control of your installation from outside via the Internet, without the need for port forwarding (currently required for DGQG04/DNET02) and an unlimited number of simultaneous connections. You and your family can therefore easily control your automation, even when you are away.
II. Push notifications
It is now possible to receive notifications on your smartphone when an entry, change event, clock or periodic event has been triggered. Simply create your configurations in GoldenGate to customize your notifications. Your smartphone will then display information about your installation directly on the home screen like any other messaging or social networking application.
III. Alexa voice assistant
Another big step in the ecosystem Domintell, the integration of the voice assistant Alexa to control your home by voice (in English, French, Spanish and Italian). The configuration is very simple: install the Skill Domintell in your Amazon Alexa account and then choose the devices that can be controlled by voice by giving them a friendly name in GoldenGate. As simple as that!
Important: a DNET02 module is required to use the Alexa voice assistant. The Amazon Alexa application or an Amazon smart speaker (Echo Dot, ...) are also required to use this feature.
IV. Many features to come!
Stay tuned to learn about the many upcoming home automation features for the Domintell system and its Cloud technology.